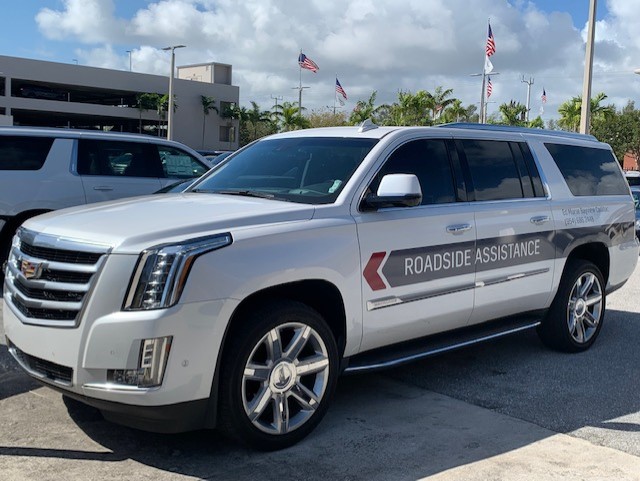 WHAT IS ROADSIDE ASSISTANCE?
Cadillac has a Roadside Assistance program to aid owners with emergencies and other services. It is a service that comes standard with each new Cadillac vehicle. Services provided include:
24 hour, 7 day/week toll-free 800 phone assistance
Towing to the closest Cadillac dealer (from a legal roadway)
Flat tire change (using vehicle's spare) or (costs for a new tire replacement or tire patch is not covered)
Battery jump-start. Vehicle unlock service (costs for a new key and the labour to create not covered)
Trip interruption assistance
Trip routing
Emergency fuel delivery
HOW DO I CONTACT ROADSIDE ASSISTANCE?
If your Cadillac vehicle is equipped with an active OnStar subscription, you can simply press the blue button for roadside service. If it is not equipped, please call 1-800-224-1400 to initiate roadside assistance for your vehicle or call Ed Morse Bayview Cadillac directly at 954-520-5083
HOW LONG IS MY VEHICLE COVERED BY ROADSIDE ASSISTANCE?
There is generally no charge for any of the services listed while the vehicle is covered by the complimentary Roadside Assistance service. However, additional charges may be incurred for some services, including towing the vehicle beyond the closest Cadillac dealer; for non-warranty parts and labour; or for lost key replacement. For details and additional information, please refer to Section 7 of your Owner's Manual.